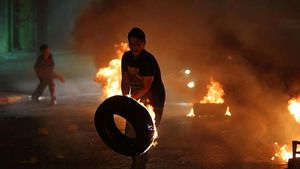 Cities across the West Bank are in the grip of mass protests as taxi drivers, teachers, shopkeepers and other Palestinian workers joined a strike to protest against fuel price rises and the ongoing financial crisis that is crippling the Palestinian Authority.
Threats of cuts to the electricity supply to large areas of the West Bank over at least $US125 million ($120 million) in unpaid bills are contributing to rising tensions, with protesters from Nablus to Ramallah and Bethlehem to Hebron calling on the Prime Minister, Salam Fayyad, to resign over the government's economic failings.
The Palestinian Authority President, Mahmoud Abbas, backed his embattled Prime Minister on Saturday and blamed Israel for restrictions that he said hampered an effective response.
Mr Abbas said that he bore ultimate responsibility for government policies and that he had asked Mr Fayyad and the cabinet to meet with representatives of the public to examine ways to lower the cost of living.
Speaking at a news conference called at his headquarters, Mr Abbas said the Palestinian Authority was facing a cash crisis because of a shortfall in donor contributions, particularly from Arab states, and he warned that civil-service employees would not receive full salaries this month.