With no action yet from Congress, state legislatures continue to work to protect citizens.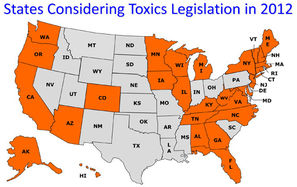 The past couple years have seen unprecedented changes in the toxic chemicals landscape across the United States. In the past nine years, over 80 chemical safety laws have been passed with an overwhelming margin of bi-partisan support in statehouses across the country.
But this is not a time to rest on our laurels. Across the country, families still come into contact with unregulated toxic chemicals. Every day, we are exposed to hundreds of different chemicals in our home and at our work - chemicals like formaldehyde and chlorinated Tris which are known carcinogens, and
bisphenol-a
(BPA) which contributes to health problems with reproductive development.
None of these chemicals are effectively regulated by the federal government: it is a widely held myth that manufacturers even have to prove a chemical's safety before introducing it into products we buy. They don't have to, and they won't often even disclose which chemicals make up their products. Instead, they hide behind the claim that the information is proprietary.
The hope for federal regulation is still that - just a hope; the law overseeing toxic chemical regulation is over 30 years old, and its overhaul is being buffeted by strong opposition from the industry
trade association
which is backed by billions of dollars of influence. So while Congress tries to figure out how to change the rules on the federal level, it is up to the states to fill the gap in protection.