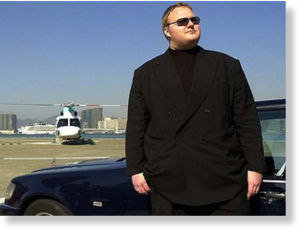 Kim Dotcom, the 37-year-old man behind Megaupload.com, was already a notorious figure in the online file-sharing world before he was forced out of the "panic room" of his $24m New Zealand mansion and arrested, in one of
world's largest criminal copyright cases
.
Despite being convicted for computer hacking and later insider trading in Germany in the late 1990s, the man formerly known as Kim Schmitz has always denied any wrongdoing.
But since moving to Hong Kong - "an awesome place to do business and to host my new phantom persona", he said in one interview - and then to New Zealand, he has never been shy about flaunting his success either.
His home in Auckland is one of New Zealand's most expensive properties. To celebrate his move there last year, he sponsored a $500,000 New Year's eve fireworks display and told the
New Zealand Herald
that he had donated generously to the country's earthquake relief fund. The US Deparment of Justice says his personal earnings in 2010 totalled $42m as he owns 68 per cent of the Mega empire.