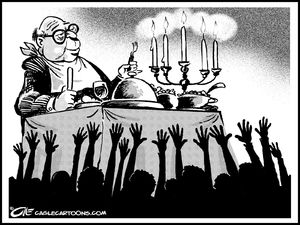 Do you love bacon? How much?
The price of bacon has gone up 13% in the last year and a whopping 53% since January 2010, according to 24/7 Wall St.
Prices of fruit, meats - even coffee - have increased dramatically over the last few years. Drought conditions and disease affecting crops and livestock are reducing supply and driving up the prices of many food staples.
While food prices are rising, the Federal Reserve is concerned that inflation is too low. In a speech last week, Federal Reserve Chair Janet Yellen said, "With inflation running at around 1%, at this point I think the risk is greater that we should be worried about inflation undershooting our goal and getting inflation back up to 2%."
In the corresponding video, Yahoo Finance Editor-in-Chief Aaron Task spoke with Lauren Lyster about rising food prices at the same time the Fed is concerned about inflation being too low.