Pro-Palestinian activists in Vienna, Austria, have staged a flash mob in the city center in the form of a theatrical performance devoted to the victims of Israeli operation in the Gaza Strip. The protest is one in a series of pro-Gaza rallies worldwide.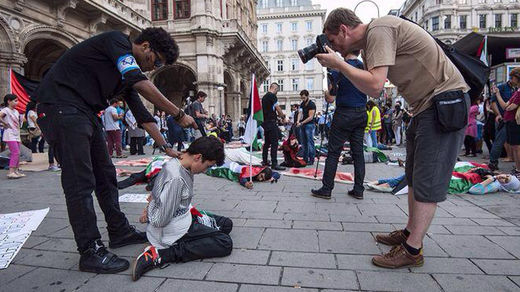 Thousands hit streets worldwide to demand end to Gaza violence (PHOTOS)
About 35 people staged a theatrical performance in from of Vienna State Opera building late Sunday, reports the APA (Austria Press Agency), leading information provider in the country. The event attracted up to 400 people, according to organizers. The police however, estimated the number at 200 people.
The flash mob was launched by the Facebook community 'Austrian activists for Palestine'.
The activists staged a performance, as seen on the photos posted on Facebook by the group. They first presented Palestinian dances. Then people dressed as Israeli soldiers were thrown to the ground by toy guns. After that the protesters fell to the ground and covered themselves with Palestinian flags, representing the victims of Israeli troops.