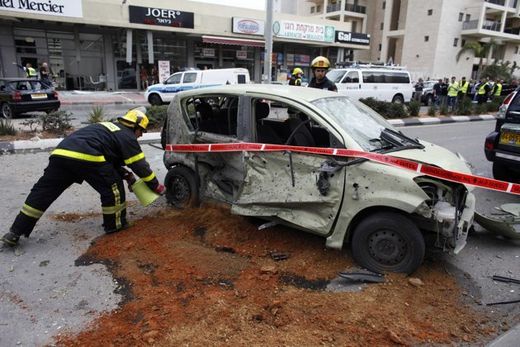 Israel launched more air strikes in the Gaza Strip and Palestinians kept up rocket fire against southern Israel on Monday in a fourth day of hostilities in which 23 Palestinians have been killed.
Egyptian efforts to broker a ceasefire appeared to be stuck over a demand by the Islamic Jihad militant group that Israel first promise not to target militant leaders for future attack.
Israeli air strikes on Monday killed two Palestinian militants and an elderly man and his daughter, medical officials said.
A 15-year-old Palestinian youth died in an explosion that Palestinians blamed on an Israeli missile. The Israeli military denied it had carried out a strike. A Reuters cameraman at the scene, where militants had been launching rockets toward Israel, saw no signs of impact or of shrapnel.
More than 30 rockets, seven of them intercepted by Israel's Iron Dome anti-missile system, were fired at Israel, causing no casualties, police said.
Eighteen of the Palestinians killed since fighting flared on Friday were identified by medical officials as militants and five as civilians. At least 74 Palestinians, mostly civilians, and three Israelis have been wounded in the past four days.