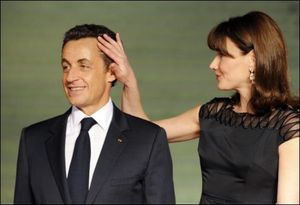 Paris - French voters planning to back centre-right incumbent President Nicolas Sarkozy in next month's election have sex less often than their left-wing rivals, according to a poll published Friday.
The survey, conducted by the respected polling institute Ifop on behalf of the pornographic magazine
Hot Video
, measured the intensity and variety of the sex lives of various voting blocs using several criteria.
According to the results, voters for Sarkozy's UMP make love on average 6.7 times a month, slightly less often than supporters of his main challenger, the Socialist Party's Francois Hollande, on 7.6.
Followers of Marine Le Pen's far-right anti-immigrant National Front top the frequency league, having sex eight times a month, while those of centrist Francois Bayrou manage only 5.9 trysts in the same period.