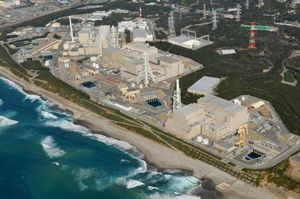 Tokyo - A Japanese power company postponed its decision Saturday on a government request that it halt three reactors at a coastal nuclear plant until safety measures can be improved to guard against future earthquakes and tsunamis.
Shutting down the reactors would likely worsen power shortages expected this summer.
On Friday, Prime Minister Naoto Kan said he had asked Chubu Electric Power Co. to suspend operation of the reactors at the Hamaoka Nuclear Power Station in Shizuoka prefecture until a seawall is built and backup systems are improved. Though not legally binding, the request is a virtual order.
The government is reviewing the safety of the country's 54 atomic reactors since a March 11 earthquake and tsunami crippled the Fukushima Dai-ichi nuclear plant in the north. The disaster left more than 25,000 people dead or missing on the northeast coast.
The Hamaoka plant, which is about 125 miles (200 kilometers) west of Tokyo in an area where a major quake is expected within decades, has been a major concern for years.
Chubu Electric executives failed to reach a decision after discussing the request Saturday afternoon and decided to meet again after the weekend, company official Mikio Inomata said.