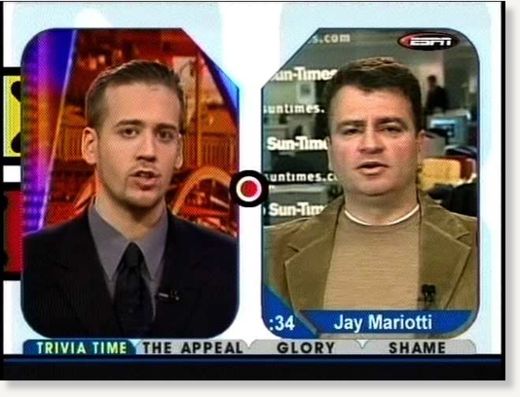 Former ESPN sports personality Jay Mariotti has been charged with three felonies - - stalking, domestic violence and assault - - after he confronted his ex-girlfriend the same day a court ordered him to stay away from her, prosecutors said.
He pleaded not guilty Wednesday to the charges: stalking, corporal injury on a spouse or domestic partner, and assault by means likely to produce great bodily injury. He was also charged with two misdemeanor counts of disobeying a court order. If convicted, he faces up to five years in state prison. His next court date is June 1 before Los Angeles County Superior Court Judge Keith Schwartz.
In addition to confronting his ex-girlfriend at a restaurant Sept. 30 -- the day he pleaded no contest to one count of misdemeanor domestic violence -- prosecutors said he argued with his former girlfriend again outside of a Venice restaurant April 15. He allegedly pulled a chunk of her hair out and grabbed her cellphone, while shouting at her, prosecutors said.
As part of a deal reached in the original case with the Los Angeles city attorney's office, six other misdemeanor counts against Mariotti were dismissed -- four domestic-violence-related counts, grand theft and false imprisonment.