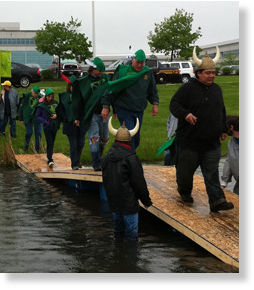 Hundreds of protesters greeted JP Morgan Chase bank shareholders at their annual meeting in Columbus, Ohio, on Tuesday to tell the big bank that it's time for Wall Street pay up for its part in the financial and foreclosure crisis that has cost residents in Ohio cities $1.6 billion in property values since 2009.
The protest was held as regulators and state attorneys generals continue to investigate the lending practices of big banks like Chase, Wells Fargo and Bank of America that are suspected of committing foreclosure fraud during the economic and housing crisis.
Organizers say 800 clergy, homeowners and union members from across Ohio and the Midwest gathered to protest the Chase shareholders meeting at corporate park outside Columbus. Heather McMahon, an organizer with the Mahoning Valley Organizing Collaborative, said 15 people entered the Chase building and held the floor during the shareholders meeting for 20 minutes despite a heavy police presence.