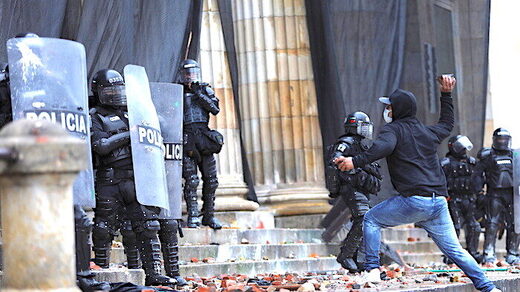 Rioters have attacked Colombia's parliament during a demonstration in the country's capital Bogota.
A since-withdrawn unpopular tax reform plan triggered weeklong protests and clashes across the country.
Dozens broke through the perimeter fences during
a massive rally at Bolivar Square in Bogota on Wednesday and stormed the building that houses both chambers of Colombia's parliament, while lawmakers were in session.
Police fired volleys of teargas and deployed water cannons to disperse the angry crowd as armored police vehicles rushed through the streets of Bogota.
MP Juanita Goebertus tweeted that
the session was suspended and lawmakers were evacuated
when the crowd attacked the building. The session was later resumed.
The protests, which were sparked by controversial tax reform and have been raging across the South American country since April 28, saw fierce clashes with police, arson and looting.