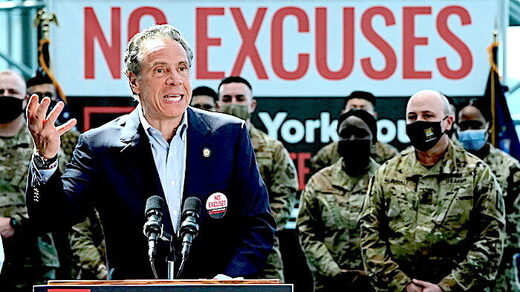 An investigation into New York Governor Andrew Cuomo is reportedly expanding to look into allegations that a top aide tied support to the governor with access to Covid-19 vaccines.
The probe looking into numerous claims of sexual misconduct has been broadened, according to sources familiar with the investigation speaking to
The Wall Street Journal.
Three Democrat county executives
reportedly told the
Journal
that
Larry Schwartz, a volunteer advisor for the governor, recently called them to rally support for Cuomo.
He asked them if they would be demanding his resignation amidst a wave of public officials doing so, but the
calls were made under the guise of discussing vaccine distribution.
Schwartz previously said in March there was no deliberate attempt to tie vaccine distribution plans to support for Cuomo,
and Beth Garvey, counsel for Cuomo, said about Schwartz's calls that
"distorting Larry's role or intentions for headlines maligns a decades long public servant."
Schwartz left his position last month as the state's vaccine czar and refused to comment further on his phone calls for the
Journal's
report.