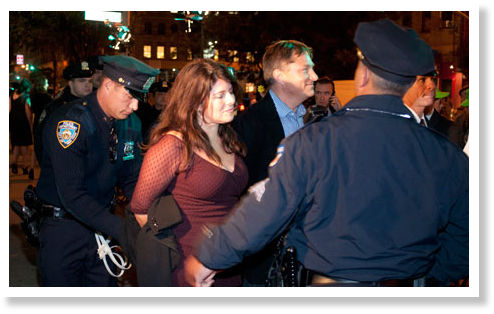 Arresting a middle-aged writer in an evening gown for peaceable conduct is a far cry from when America was a free republic
Last night I was
arrested in my home town
, outside an event to which I had been invited, for standing lawfully on the sidewalk in an evening gown.
Let me explain; my partner and I were attending an event for the Huffington Post, for which I often write:
Game Changers 2011
, in a venue space on Hudson Street. As we entered the space, we saw that about 200
Occupy Wall Street
protesters were peacefully assembled and were chanting. They wanted to address Governor Andrew Cuomo, who was going to be arriving at the event. They were using a technique that has become known as "the human mic" - by which the crowd laboriously repeats every word the speaker says - since they had been told that using real megaphones was illegal.
In my book
Give Me Liberty
, a blueprint for how to open up a closing civil society, I have a chapter on permits - which is a crucial subject to understand for anyone involved in protest in the US. In 70s America, protest used to be very effective, but in subsequent decades municipalities have sneakily created a web of "overpermiticisation" - requirements that were designed to stifle freedom of assembly and the right to petition government for redress of grievances, both of which are part of our first amendment. One of these made-up permit requirements, which are not transparent or accountable, is the megaphone restriction.