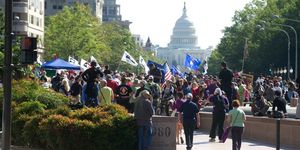 At a time when protests have erupted across the country over a growing inequality of wealth and Congress is considering measures to impose a surtax on those earning more than $1 million annually, the public seems to be in a populist mood - one that's tempered by skepticism about Washington's ability to do anything about the grim economy.
A new survey shows that Americans overwhelmingly support the self-styled Occupy Wall Street protests that not only have disrupted life in Lower Manhattan but also in Washington and cities and towns across the U.S. and in other nations. Some 59 percent of adults either completely agree or mostly agree with the protesters, while 31 percent mostly disagree or completely disagree; 10 percent of those surveyed didn't know or refused to answer.
What's more, many people are paying attention to the rallies. Almost two-thirds of respondents - 65 percent - said they've heard "a lot" or "some" about the rallies, while 35 percent have said they've heard or seen "not too much" or "nothing at all" about the demonstrations.