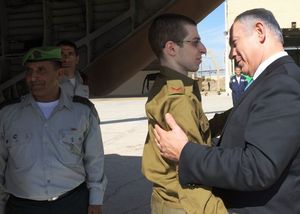 Gaza City, Gaza Strip - Looking dazed, a thin and pale Gilad Schalit emerged from a pickup truck Tuesday under the escort of his Hamas captors and the Egyptian mediators who helped arrange the Israeli tank crewman's release after more than five years in captivity.
Freed in exchange for more than 1,000 Palestinian prisoners, an ashen-faced Schalit struggled to breathe in an interview with Egyptian TV minutes after his release on the Egyptian side of the border with Gaza, saying that he had feared he would remain in captivity for "many more years." He said he was "very excited" to be headed home and that he missed his family and friends.
A short while later, the 25-year-old soldier was transferred to Israel, said Israeli army spokesman Brig. Gen. Yoav Mordechai, who told a news conference: "Today, Gilad Schalit is with us."
In the first public sighting of Schalit since he was captured, he appeared thin with dark circles around his eyes in the brief video clip and interview broadcast on Egyptian TV. Wearing a black baseball cap and gray shirt, Schalit was taken from a pickup truck and escorted by a contingent of Egyptian officials and masked Hamas gunmen who had whisked him across the border.