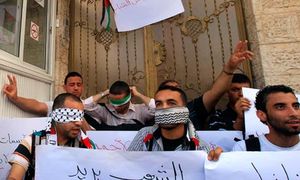 Tony Blair urges action and Palestinian president Mahmoud Abbas fears potential 'disaster that no one could control'
Demonstrations in the West Bank and Gaza in support of about 2,000 Palestinian prisoners on hunger strike are escalating amid efforts by Egyptian mediators to broker a deal to avoid protests spiralling out of control if a detainee dies.
Two prisoners, who have refused food for 77 days, are thought to be close to death with another six in a critical condition
, say Palestinian groups. The Israeli prison service (IPS) says no one's life is at risk.
In an unusual intervention, Tony Blair, the representative of the Middle East quartet, urged Israel to "take all necessary measures to prevent a tragic outcome that could have serious implications for stability and security conditions on the ground". He said he was "increasingly concerned about the deteriorating health conditions" of hunger strikers.