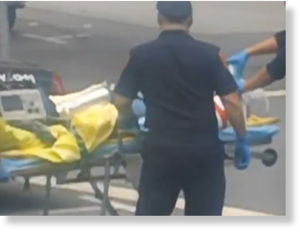 Officers with the San Francisco Police Department in Northern California shot a man believed to have a knife this morning, but preliminary reports suggest that the victim was in handcuffs while the authorities opened fire.
Police officers with the SFPD allegedly opened fire on a man armed with a knife at around 10:30 a.m. local time on Wednesday after responding to reports that someone had been stabbed near the city's Pier 17.
The
Bay City News Service
reported minutes later that there was an "officer-involved" shooting but did provide any other details. The
San Francisco Chronicle
reported at 11:30 a.m. local time that the man was shot by police after he refused to drop a knife that they believe was used in a stabbing earlier that morning. Fire Department Capt. Jeanne Seyler confirms to the paper that the victim was being transported for life threatening wounds, but did not provide any more details.
A
video
uploaded to YouTube less than 30 minutes after that report includes a testimony from an eyewitness who alleges that the police shot the suspect after placing him in handcuffs.