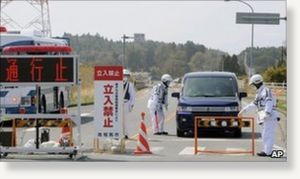 Japan has made it illegal to enter a 20km (12-mile) evacuation zone around the stricken Fukushima nuclear reactor.
People were urged to leave the area shortly after the 11 March earthquake and tsunami crippled the plant, but the order was not enforced by law.
Cooling systems were knocked out by the twin disasters and radiation has been leaking from the plant.
Meanwhile a strong earthquake hit eastern Japan. The magnitude 6.1 quake shook buildings in Tokyo.
The epicentre of Thursday's tremor was in Chiba prefecture, east of the capital.