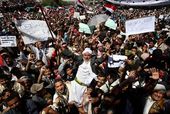 Sanaa, Yemen - Security forces opened fire on demonstrators taking part in protests throughout Yemen in what appears to be the biggest turnout in a month of unrest to demand regime change, eyewitnesses said.
In the southern port city of Aden, the witnesses say security forces shot at demonstrators trying rip down photographs of President Ali Abdullah Saleh. Six protesters were wounded, one seriously, one medic said.
Many demonstrators say their turnout of hundreds of thousands on Friday is to tell their leader of 32 years that they reject his latest compromise offer and want him to go.
Saleh proposed creating a new constitution guaranteeing the independence of parliament and the judiciary on Thursday night.