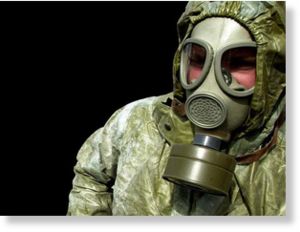 California - A man who decided to try out his costume and dress up ahead of Halloween prompted an explosives scare in downtown San Mateo Monday that resulted in the dispatch of a police bomb squad, authorities said.
Police received several calls about a man in a car front of a market along the first block of East 4th Street wearing what witnesses described as a full gas mask and army gear with several grenades hanging around his neck.
The San Mateo County sheriff's bomb squad responded and evacuated a half-block area about 9:30 a.m.
Police detained the costumed man and said an "inert grenade" was found in his car, but they also indicated there was "no current danger" to the public.