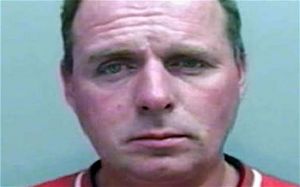 Stephen Farrow, a homeless drifter accused of the murders of Rev John Suddards and retired teacher Betty Yates scored 31 out of 40 on a test to identify psychopaths and is '88 per cent anti-social' but is not insane, a court heard today.
Dr Tim Rogers, a consultant forensic psychiatrist, told Bristol Crown Court that Stephen Farrow, 48, demonstrated many of the characteristics of a psychopath.
Farrow has admitted killing the Reverend John Suddards, 59, at his vicarage in Thornbury, Glos., but denies murdering the vicar and pensioner Betty Yates, 77.
He said it was not possible to be sure when Farrow was telling the truth and when he was lying.
The psychiatrist said there are 20 traits of a psychopath - when each is given a score of up to two, Farrow scored 31 out of 40.
But he said that after assessing Farrow on two separate occasions in recent months and reading compiled reports spanning several years, he passed the threshold of psychopathy.