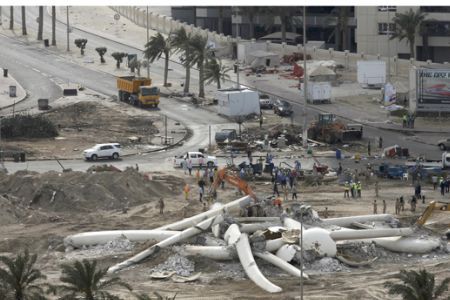 Bahraini authorities have razed to the ground Manama's Pearl Square, which is considered the epicenter of anti-government protests in the country.
The iconic central structure was brought down on Friday two days after Bahraini and Saudi forces, backed by tanks and helicopters, cleared the land mark square where anti-government protesters had been camped for several weeks.
At least six people were killed and many others have been injured in the brutal crackdown on Wednesday.
Pearl square consisted of six dhows (sails) projecting up toward the sky and holding up a pearl. The dhows represent the six Persian Gulf littoral sates of Bahrain, Kuwait, the United Arab Emirates, Saudi Arabia, Qatar and Oman.
The pearl represents the joint heritage of these countries, whose economies were based on pearl diving before the discovery of oil.