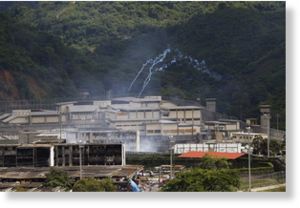 Fire ripped through a prison where thousands of Venezuelan troops struggled to put down a revolt by inmates on Sunday as dozens of horrified relatives tried to watch the fighting.
Officials gave few descriptions about the progress of the three-day battle at the Rodeo I prison and did not say if more people had been killed or injured beyond the three dead and 18 wounded reported on the first day of the clash. Gunfire continued to rattle from the compound.
Deputy Justice Minister Nestor Reverol told state television the pre-dawn fire was caused by a short circuit, and that inmates had been evacuated before flames engulfed a building. Some relatives outside said that prisoners with cell phones had told them troops started the blaze.
Evelyn Rodriguez, 27, climbed a nearby hill for a view and gasped when she peered through binoculars to see the prison blacked by the fire.
"My husband and my brother were inside that building," Rodriguez said, trying to hold back tears. "I have no idea what has happened to them."