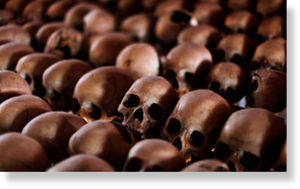 Mother and son given life terms for their part in assault, rape and killings in southern region of Butare
A former Rwandan minister became the first woman to be convicted of genocide when she and her son were given life sentences for war crimes in the 1994 genocide.
The UN international criminal tribunal for Rwanda found that Pauline Nyiramasuhuko, who was minister for family and women's affairs, and her son, Arsene Ntahobali, a former militia leader, helped to abduct hundreds of ethnic Tutsis who were assaulted, raped and killed in the southern region of Butare. They were both found guilty of genocide, war crimes and crimes against humanity.
Hanna Brollowski, an international law researcher at the TMC Asser Institute in The Hague, said Nyiramasuhuko was the first woman to be convicted of genocide.
Between April and June 1994 Nyiramasuhuko and Ntahobali, backed by the extremist Hutu militia known as the Interahamwe, abducted hundreds of ethnic Tutsis in Butare.