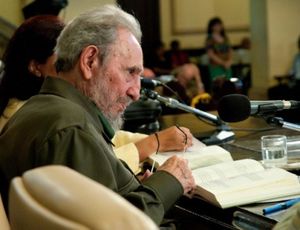 Recently it was revealed that Fidel Castro was
super critical of the Iranian President's views on Israel
. When this became public the accusations came flying from every server on the Web... Fidel is a zionist, Fidel is senile, Fidel has lost his mind!
Today he proved that all of the above is false, and that his mind is as clear as it was when he and his forces toppled the Cuban dictator, Batista, in 1959. He probably holds the
Guinness Book of Records
' 'record'
for the Longest Lasting Thorn in the Side of The United States
' .... and here's why;
Cuban revolutionist blames Mossad, secret services of US, UK for recent assassination of Iranian scientist. 'I don't remember another time in history when killing of scientists was official policy of powers armed with WMDs,' he writes in local paper
Former Cuban President Fidel Castro on Friday accused Israel, the United States and Britain for the "massacre" of Iranian scientists.
The Cuban revolutionist claimed that the mercenaries who acted on behalf of these countries are also responsible for a series of other assassinations that are meant to thwart the development of an Iranian nuclear program.