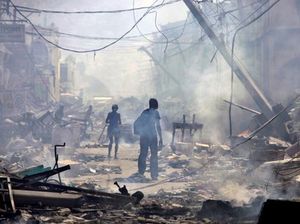 The amount of money raised for Haiti earthquake relief has reached a staggeringly high $1.4 billion in less than one year from the United States alone. Everyone from celebrities to regular people held telethons, bake sales and dinner parties whose proceeds went to help Haiti earthquake victims.
A year later, people who opened their purse strings and wallets so generously are asking where the money went and how well was it spent. According to a survey by the
Chronicle of Philanthropy
of 60 major relief organizations, only 38 percent of that money has been spent to provide recovery and rebuilding aid. By comparison, in New Orleans, about 80 percent of the money raised for Hurricane Katrina victims has been spent.
Furthermore, only 63.6 percent of the money pledged for 2010 has been disbursed, according to the U.N special envoy for Haiti. The Haiti money train tends to take two different tracks. There is the money that was raised and donated shortly after the earthquake. That money has been spent on emergency relief efforts. And then there are billions pledged by foreign nations, most of which may not now be disbursed after all, according to many officials with knowledge of the process.
Carleene Dei, director of the United States Agency for International Development told reporters in a January 7 conference call that there was a "lack of understanding" about the pace at which pledges from March's donors conference could be met, referring to the UN conference where nations pledged more than $10 billion to help Haiti rebuild itself.