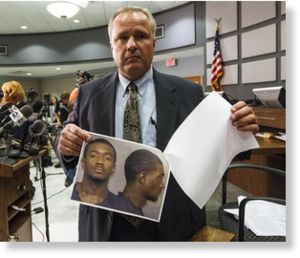 A manhunt is underway for the suspect police say shot and killed three young men and injured three more at a Saturday night party near Auburn University in Auburn, Ala.
Former Auburn football players and current students Edward Christian and Ladarious Phillips were pronounced dead along with Auburn resident Damario Pitts. All were 20.
Current player Eric Mack, 20, was still being treated at an area hospital, and John Robertson, 20, was "fighting for his life" and undergoing critical surgery at the University of Alabama-Birmingham, Auburn Police Chief Tommy Dawson said at a Sunday news conference. A 19-year-old man was treated and released.
"I don't believe they were targeted; I believe there was a fight and someone got carried away and things went too far," Dawson said.
Police are hunting for Montgomery, Ala., resident DesMonte Leonard, 22, who has been charged with three counts of capital murder.