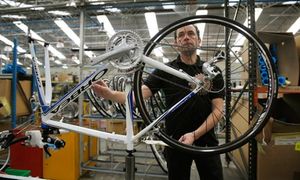 Why are we told a broken system that creates vast inequality is the only choice? Spain's amazing co-op is living proof otherwise.
There is no alternative ("Tina") to capitalism?
Really? We are to believe, with Margaret Thatcher, that an economic system with endlessly repeated cycles, costly bailouts for financiers and now austerity for most people is the best human beings can do? Capitalism's recurring tendencies toward extreme and deepening inequalities of income, wealth, and political and cultural power require resignation and acceptance - because there is no alternative?
I understand why such a system's leaders would like us to believe in Tina. But why would others?
Of course, alternatives exist; they always do. Every society chooses - consciously or not, democratically or not - among alternative ways to organize the production and distribution of the goods and services that make individual and social life possible.
Modern societies have mostly chosen a capitalist organization of production. In capitalism, private owners establish enterprises and select their directors who decide what, how and where to produce and what to do with the net revenues from selling the output. This small handful of people makes all those economic decisions for the majority of people - who do most of the actual productive work. The majority must accept and live with the results of all the directorial decisions made by the major shareholders and the boards of directors they select. This latter also select their own replacements.
Capitalism thus entails and reproduces a highly undemocratic organization of production inside enterprises. Tina believers insist that no alternatives to such capitalist organizations of production exist or could work nearly so well, in terms of outputs, efficiency, and labor processes. The falsity of that claim is easily shown. Indeed, I was shown it a few weeks ago and would like to sketch it for you here.