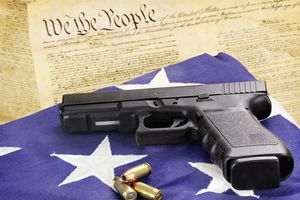 A New York father has had his firearms all but confiscated after the Suffolk County Pistol License Bureau suspended his pistol license indefinitely over a perceived threat made by his 10-year-old son and two of his classmates at school.
John Mayer, of Commack, N.Y., told
TheBlaze
that the incident occurred on March 1. It was like any other day, the father explained. He put his son on the bus and sent him off to school.
Later that day, Mayer got a call from school officials at Pines Elementary School informing him that his 10-year-old son and two other students were talking about going to a boy's house with a water gun, "paint gun" and a BB gun. There had reportedly been a school yard pushing incident the day before involving the boys, excluding Mayer's son, and they were seemingly talking about getting even in some way.
Mayer told
TheBlaze
that a teacher overheard the students talking and informed the principal, who then immediately called police and filed a report. He said the principal told police something to the effect of, there's a "kid with a gun, ready to go." Mayer maintains that no serious death threats were made by the students. The Hauppauge Public School District has not returned several messages left by
TheBlaze
, therefore, it is not clear what they are claiming was said.
School officials then "interrogated" the boys, Mayer explained. It was later determined that the 10-year-old boys did not have access to a BB gun, paintball gun or any actual firearms.