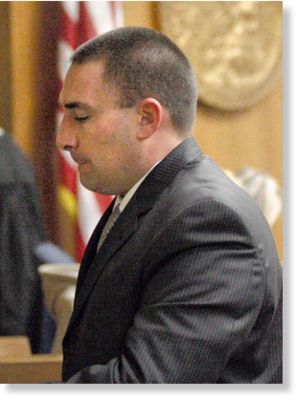 A San Bernardino County jury Wednesday rejected a controversial "Zoloft" defense presented by a former Westminster police detective accused of kidnapping and raping a waitress in 2010, finding the defendant guilty of all eight charges.
Anthony Nicholas Orban's attorney acknowledged from the outset that his client attacked the woman, but argued that the former detective was rendered mentally "unconscious" by a powerful dose of the prescription antidepressant and was not responsible for his actions.
A jury of eight women and four men deliberated less than a day before dismissing that defense and finding Orban guilty of kidnapping, two counts of rape, two counts of forced oral copulation, two counts of sexual penetration with a foreign object and one count of making a criminal threat.
The victim sat in the front row of the packed Rancho Cucamonga courtroom, reacting with a subtle smile as Superior Court Judge Shahla S. Sabet read the guilty verdicts. The victim's unflinching, graphic account of the sexual assault was the most compelling testimony given during the month-long trial.
Orban showed little emotion as the verdicts were read. His wife wept gently in the back of the courtroom.