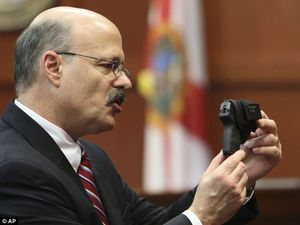 The U.S. Department of Justice, overseen by Attorney General Eric Holder, has ordered the Sanford, Florida police department to keep possession of all the evidence from George Zimmerman's second-degree murder trial - including the exonerated neighborhood watch volunteer's gun.
Sanford police confirmed on Thursday that the DOJ asked the agency not to return any pieces of evidence to their owners. Zimmerman was expected to get his firearm back by month's end.
The development is a sign that the criminal section of the Justice Department's Civil Rights Division is seriously investigating Zimmerman to determine if federal civil rights charges should be filed.
Zimmerman was acquitted of murder and manslaughter on Sunday in a Florida courtroom, but civil rights violations provide an exception to the U.S. Constitution's protection against double jeopardy after a defendant has been found 'not guilty' in a state or local jurisdiction.