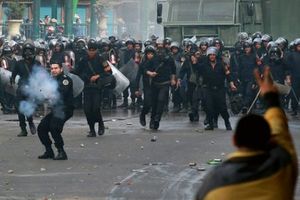 Reports say Israel has sent crowd dispersal weapons to the Egyptian regime to curb massive protests against President Hosni Mubarak's 30 years of authoritarian rule.
The International Network for Rights and Development said that
three Israeli planes landed at Cairo's Mina International Airport on Saturday, carrying equipment for use in dispersing and suppressing large crowds
, a Press TV correspondent reported.
According to the report, Egyptian security forces received the cargo on three Israeli planes, which were allegedly carrying a
large supply of internationally proscribed gas to disperse crowds
.
Egyptians have taken to the streets across the country for eight days running, demanding that Mubarak step down.
The uprising has prompted Mubarak to appoint his first-ever vice president and a new prime minister in a desperate attempt to retain power.