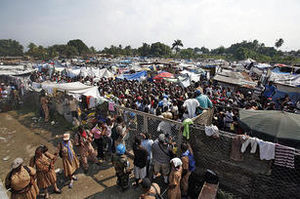 For years -- even decades --
Earth Policy Institute
president and
Grist contributor
Lester Brown has issued Cassandra-like warnings about the global food system. His argument goes something like this: Global grain demand keeps rising, pushed up by population growth and the switch to more meat-heavy diets; but grain
production can only rise so much
, constrained by limited water and other resources. So, a food crisis is inevitable.
In recent years, two factors have added urgency to Brown's warnings: 1) climate change has given rise to increasingly volatile weather, making crop failures more likely; and 2) the perverse desire to
turn grain into car fuel
has put yet more pressure on global grain supplies.
Brown's central metaphor -- which he's been using at least since the mid-'90s -- will be familiar to readers who've lived through the previous decade's dot-com and real-estate meltdowns: the bubble. The world has entered a "food bubble," he argues; we've puffed up grain production by burning through unsustainable amounts of three finite resources: water, fossil fuels, and topsoil. At some point, he insists, the bubble has to burst.
Well, for the second time in three years, the globe is lurching toward a full-on, proper food crisis, especially in places like Haiti that have de-emphasized domestic farming and turned instead to the global commodity market for food. In 2008, global food prices spiked to all-time highs, and hunger riots erupted from Haiti to Morocco. Now prices are spiking again, and have already surpassed the 2008 peak,
The Sydney Morning Herald
reports
.