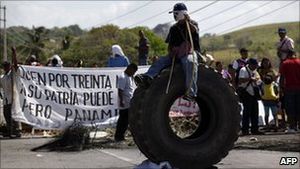 Police in Panama have clashed with dozens of indigenous protesters trying to prevent copper mining on their ancestral lands.
Members of the Guaymi indigenous group occupied a bridge on a major highway on the outskirts of Panama City.
Clashes erupted when police tried to move the protesters to clear the way for traffic.
Lawmakers last week approved a law which opens up the western Ngobe-Bugle reservation to foreign mining projects.
Police say demonstrators, some of whom were armed with spears, threw stones at them when they tried to clear the section of the Pan-American highway.