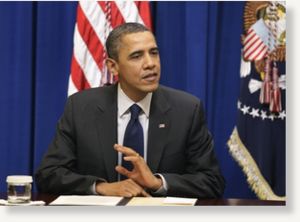 A Georgia Republican said Friday he didn't immediately condemn a constituent who asked about assassinating President Barack Obama because he was stunned by the question and didn't want to dignify it with a response.
Rep. Paul Broun, a conservative who has harshly criticized the president, confirmed that at a town hall event in Oglethorpe County, Ga., on Tuesday a man asked, "Who's going to shoot Obama?"
After the exchange was reported by the Athens Banner-Herald, Broun issued a statement Friday calling the question "abhorrent."
"I deeply regret that this incident happened," Broun said in a statement. "I condemn all statements - made in sincerity or jest - that threaten or suggest the use of violence against the president of the United States or any other public official. Such rhetoric cannot and will not be tolerated."
His office refused to say whether it had audio or video footage of the exchange.