TRIPOLI, Libya - The West moved to send its first concrete aid to Libya's rebellion in the east of the country, hoping to give it the momentum to oust Moammar Gadhafi. But the Libyan leader's regime clamped down in its stronghold in the capital, quashing an attempt Monday to hold new protests as residents reported skyrocketing food prices from the crisis.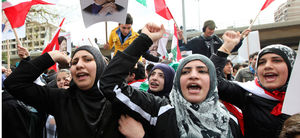 The two sides in Libya's crisis appeared entrenched in their positions, and the direction the uprising takes next could depend on which can hold out longest. Gadhafi's opponents, including mutinous army units, hold nearly the entire eastern half of the country, much of the oil infrastructure and some cities in the West. Gadhafi is dug in in Tripoli and nearby cities, backed by security forces and militiamen who are generally better armed than the military.
In the two opposition-held cities closest to Tripoli - Zawiya and Misrata - rebel forces were locked in standoffs with Gadhafi loyalists.
An
Associated Press
reporter saw a large pro-Gadhafi force massed on the western edge of Zawiya, some 30 miles (50 kilometers) west of Tripoli, with about a dozen armored vehicles and tanks and jeeps mounted with anti-aircraft guns. Residents inside the city said they were anticipating a possible attack.