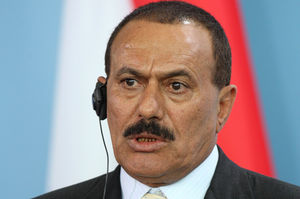 Dozens of activists calling for the ouster of Ali Abdullah Saleh, Yemen's president, have clashed with government supporters in Sanaa, the country's capital.
Plainclothes police also attacked the demonstrators, who marched to the Egyptian embassy in Sanaa on Saturday chanting "Ali, leave leave" and "Tunisia left, Egypt after it and Yemen in the coming future".
The chants were referring to the ouster of Zine El Abidine Ben Ali in Tunisia early this month and to continuing demonstrations against Hosni Mubarak, the president of Egypt.
No casualties have been reported in the Yemen clashes.
Tawakel Karman, a female activist who has led several protests in Sanaa during the past week, said that a member of the security forces in civilian clothes tried to attack her with a dagger and a shoe but was stopped by other protesters.