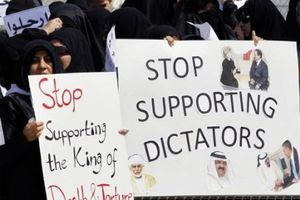 Anti-government protesters in Bahrain have gathered outside the US Embassy in the capital, Manama, calling on Washington to stop supporting the autocratic regime of the ruling Al Khalifa royal family.
The protesters gathered in front of the embassy on the 22nd day of protests on Monday, chanting slogans such as "Down down Hamad" -- a reference to the country's king -- and "Down with the monarchy! People want democracy!"
Demonstrators also chanted, "The people want to topple the regime!"
"If the Americans say 'OK, stop' ... I'm sure the regime won't say no," said Muneer Shehab, a 39-year-old activist.