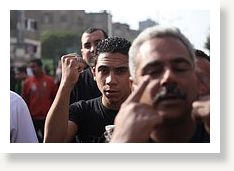 The Egyptian
uprising
against the Mubarak regime is historic and important in its own right. But it may also lead to significant changes in the region that could be positive for the Palestinian cause. Israel is
worried about a reliable ally
being toppled next door.
The Mubarak dictatorship is a core pillar of the U.S./Israeli order in the Middle East, an order that completely ignores the wishes and aspirations of people on the ground. The U.S. and Israel are scared of the new order that is to come.
As As'ad Abu Khalil
notes
at his blog, "the Israeli strategy in the Middle East has been firmly set on the continuity of the Sadat-Mubarak dictatorship." Israel's peace agreement with Egypt in 1979 removed a military threat to Israel and secured millions of U.S. dollars and military support for the Egyptian dictatorship. The Mubarak regime got carte blanche for its repressive rule.