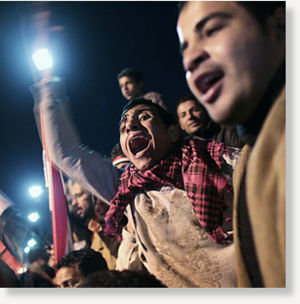 Hundreds of thousands of Egyptians erupted in angry protest on Thursday night, painfully disappointed after hours of massing in Tahrir Square in celebratory expectation. Famous singers, news anchors and religious sheiks had appeared before the crowd to urge on the hope that President Hosni Mubarak would resign. Parents and children, the elderly, the middle aged, the young and a cross section of political affiliations danced and sang along to nationalist songs. A couple even celebrated their wedding on one of the square's makeshift stages. But the joy was premature.
When President Hosni Mubarak finally spoke, it was not at all what they expected. "He's laughing at the people. He's still laughing at us," Shams Hilal, 27, an Egyptian journalist, said, spitting on the ground in Tahrir Square. "He wants to see the country destroyed." "You arrogant fool," one woman cried at the President's image projected on a large sheet of cloth. "May your house burn," shouted another. And the chants of "Fall, fall, down with Mubarak" rippled through the crowd with a new and furious intensity.
That anger is being channeled into a march on the presidential palace on Friday. Given the positioning of the presidential guard and the army around the presidential palace, some fear that it could lead to another round of bloody clashes. Mubarak's previous address to the nation preceded a day of violence, when armed regime loyalists and hired thugs attacked the protesters in Tahrir Square. On Thursday night after the speech, a small, angry protest gathered in front of the line of tanks outside the state-television building. Others bedded down for another night in Tahrir. Many, many others vowed to keep going until "the idiot" - their President - gets the message.