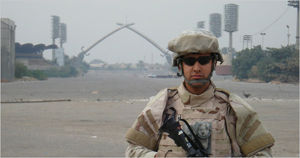 In his last months alive, Senior Airman Anthony Mena rarely left home without a backpack filled with medications.
He returned from his second deployment to Iraq complaining of back pain, insomnia, anxiety and nightmares. Doctors diagnosed post-traumatic stress disorder and prescribed powerful cocktails of psychiatric drugs and narcotics.
Yet his pain only deepened, as did his depression. "I have almost given up hope," he told a doctor in 2008, medical records show. "I should have died in Iraq."
Airman Mena died instead in his Albuquerque apartment, on July 21, 2009, five months after leaving the Air Force on a medical discharge. A toxicologist found eight prescription medications in his blood, including three antidepressants, a sedative, a sleeping pill and two potent painkillers.
Yet his death was no suicide, the medical examiner concluded. What killed Airman Mena was not an overdose of any one drug, but the interaction of many. He was 23.