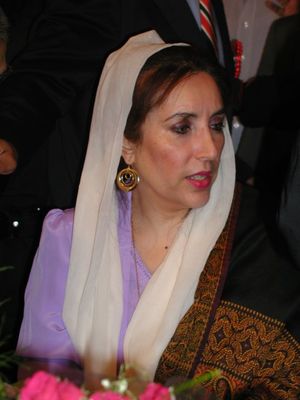 Former president under scrutiny over assassination of ex-Prime Minister Benazir Bhutto
Islamabad - A Pakistani court issued an arrest warrant for ousted military leader Pervez Musharraf on Saturday over allegations he played a role in the 2007 assassination of an ex-prime minister and rival. It was a major setback for the onetime U.S. ally, who was plotting a political comeback from outside the country.
Musharraf, who has not been charged, described accusations that he had a hand in the attack on ex-Prime Minister Benazir Bhutto as a smear campaign by a government led by her aggrieved husband.
The stunning allegation that Musharraf - a self-declared opponent of Islamic militancy - was linked to extremists accused in the attack was likely to keep him out of Pakistan, at least in the short term.
His possible arrest abroad did not appear imminent, but Pakistan's information minister, Firdous Ashiq, Awan said the government will contact Interpol about seeking Musharraf's detention if the court requests it.
Musharraf's spokesman said the former leader was in Dubai, with no plans to go to Pakistan. Speaking from London, where Musharraf has lived in self-imposed exile, Fawad Chaudri quoted him as saying that the accusations were "absurd and ridiculous."