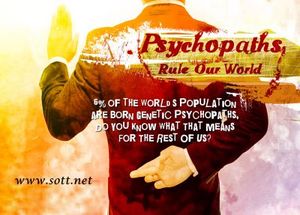 We have never faced anything like what we are facing today. Most of us have planned our lives in terms of a world that is quickly disappearing and we have not set new sails based on the prevailing winds that will blow across our future bows. What will surprise most people is the fact that our true enemies are not terrorists in far away countries but psychopaths that walk among us and populate corporate boardrooms, banks and government chambers.
We have not learned what to do about the world's psychopaths so we will see our civilization ripped asunder. Psychopaths and sociopaths have little choice but to hurt others as well as the environment because it is in their very nature to do so. These vicious individuals and the institutions they manage are at war with the peoples of the world and there is little defense against them. The very nature of our civilization encourages these people to seek the pinnacles of power and they certainly found just that inside the oil companies.
They aren't that rare. In fact millions of people are 'psychopathic enough' to destroy other people's lives.
The concept of "corporate psychopaths" is an emerging realization
and has been described by Dr. Robert Hare who is a world-renowned psychiatrist and professor at the University of British Columbia. The 2008 Australian documentary,
I, Psychopath
, points out that the vast majority of psychopaths are not crazed axe murderers: "Most of them function incognito in high-powered professions, all the way to the very top." These are people who have no conscience. They are described as being manipulative, charming, glib, deceptive, parasitic, irresponsible, selfish, callous, promiscuous, impulsive, antisocial, and aggressive. Their main defect - what psychologists call "severe emotional detachment" or a total lack of empathy and remorse - is concealed and harder to describe than the symptoms of schizophrenia or bipolar disorder."