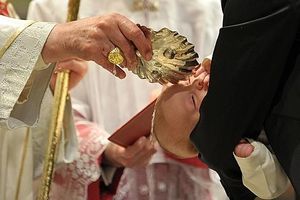 Sunday evening youth mass in Saint-Germain-des-Pres is overflowing with parishioners. People stand in aisles or sit cross-legged in corners of the cavernous, sixth century Paris church.
Father Benoist de Sinety, parish priest at Saint Germain for the past three years, says he has always had the good fortune of seeing crowds of young people seeking their bearings or rediscovering faith. But he knows it is not the same everywhere.
Churches in France and elsewhere in Europe have been battling falling numbers, a trend evident not only in the empty pews, but in the sharp fall in baptisms. But "de-baptisms", a church's deletion of one's name from the official baptismal registry at a parishioner's request, are a recent phenomenon, and they are taking place in both Protestant and Catholic communities.
There are no official statistics, but experts and activists count the numbers of those seeking de-baptism in the tens of thousands, and websites offering informal "de-baptism" certificates have mushroomed.