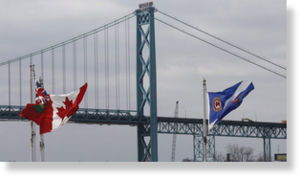 WARNING: This story contains disturbing details
Three Canadian women filed lawsuits Tuesday alleging "sexual molestation" by American female border guards at the Canada-U.S. border near Windsor, Ont.
Two separate lawsuits were filed, one involving two women travelling together and the other by a woman travelling separately who alleged incidents at the Ambassador Bridge and the Windsor-Detroit tunnel.
Including a similar lawsuit filed by a Stratford, Ont., woman in February 2011, there are now at least four Canadian women accusing border agents of sexual assault at the Canada-U.S. crossing, according to the lawyer for all three cases, Tom Wienner.
"These were not pat-downs or limited personal searches, these were clearly in the nature of sexual molestation," the Rochester, Mich.-based lawyer told CBC News.
Leslie Ingratta, of Windsor, Ont., told CBC News she was heading into Detroit for a shopping trip in January 2011 when she was taken aside for further questioning.