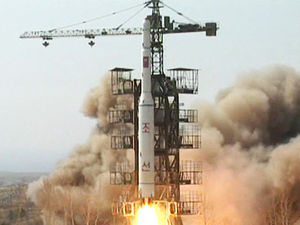 Thumbing its nose at threats from both Japan and South Korea to shoot it down if it comes near their territory, North Korea has moved a long-range missile onto its launch pad in preparation for an April liftoff.
CNN reports the news broke during a nuclear summit in South Korea where 60 world leaders were gathering to discuss nuclear terrorism, and how best to secure nuclear material.
Hyung-Jin Kim from the Associated Press reports South Korea joined Japan in announcing it will track the orbit of Pyongyang's rocket and shoot it down if it slips into Southern territory.
Yoon Won-shik, a vice spokesman at the South Korean Defense Ministry says "We are studying measures such as tracking and shooting down (parts) of a North Korean missile in case they stray out of their normal trajectory."
"We cannot help viewing (the launch) as a very reckless, provocative act."