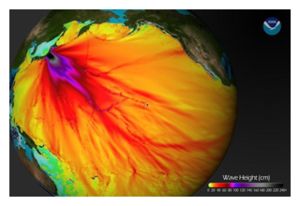 By talking with survivors of the devastating tsunami that hit Japan earlier this year, scientists may now have a better idea as to how to help prevent fatalities from such events in the future.
The
catastrophic magnitude 9.0 quake
that hit Japan in March killed 19,508 people. The resulting tsunami reached heights of up to 100 feet (30 meters) along the coast of northeastern Japan.
In the 115 years before the disaster, a trio of tsunamis hit the region, with one causing 22,000 deaths. In response, many efforts were undertaken to protect against further tsunamis, such as numerous breakwaters - that is, coastal barriers - as well as annual tsunami evacuation drills. Still, the March tsunami claimed many lives, causing up to about 20 percent of deaths from the quake in some areas, said researcher Masataka Ando, a seismologist at Academia Sinica in Taipei, Taiwan.
To understand why the waves killed so many people
despite the precautions,
researchers interviewed 112 survivors at public evacuation shelters in six cities in Japan in April and June. The aim was to see why many did not immediately evacuate areas endangered by the tsunami.