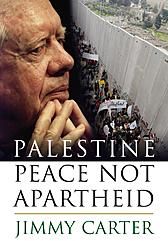 Washington - Former President Jimmy Carter has become the target of a class action lawsuit over ostensibly mean things he said about Israel in his best-selling 2006 book,
Palestine: Peace Not Apartheid
.
The lawsuit, filed in New York by an Israeli firm, alleges that the book "contained numerous false and knowingly misleading statements intended to promote the author's agenda of anti-Israel propaganda and to deceive the reading public instead of presenting accurate information as advertised."
The five American plaintiffs,
two of whom are dual citizens of the US and Israel
, seek $5 million in damages over the book (which is being sold for less than $10 on
Amazon
) on the basis that its criticisms of Israel violated consumer protection safeguards.