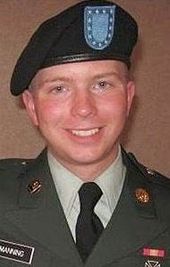 Washington - Under increasing public pressure and facing accusations of prisoner abuse, the Pentagon said Tuesday that it will transfer the soldier suspected of leaking secret documents to the Army prison at Fort Leavenworth, Kansas.
The change for Army Pfc. Bradley Manning, which could come as early as Wednesday, sources told NBC News, could include a dramatic shift in the conditions of his confinement.
Manning was held in maximum security at the Marine Corps brig Quantico, Va., for more than eight months where he spent 23 hours a day and ate all his meals in an
isolated
cell, was permitted no contact with other prisoners, and was forced to wear chains and leg irons any time he was moved. He also was often forced to strip naked at night and stand nude in his cell for early morning inspection.
The Marines claim they took his clothes to prevent him from injuring himself. Military and Pentagon officials insist the action was punishment for what the Marines considered disrespect from Manning. Such tactics for disciplinary reasons are against military regulations.