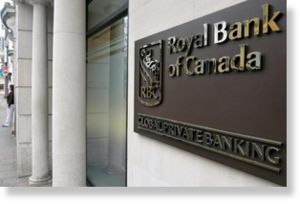 US regulators have announced charges against Royal Bank of Canada, accusing the major Canadian bank of "washing" hundreds of millions of dollars through fraudulent trading.
The US Commodity Futures Trading Commission (CFTC) on Monday said it had filed a complaint in federal district court in New York accusing RBC of "conducting a multi-hundred million-dollar wash sale scheme in connection with exchange-traded stock futures contracts."
The Canadian bank and financial services company does business in New York.
"The trading scheme was allegedly designed as part of RBC's strategy to realize lucrative Canadian tax benefits from holding certain public companies' securities in its Canadian and offshore trading accounts," the CFTC said.
CFTC also charged that the bank concealed material information from, and made material false statements to, a futures exchange.
"From at least June 2007 to May 2010, RBC allegedly non-competitively traded hundreds of millions of dollars' worth of narrow based stock index futures (NBI) and single stock futures (SSF) contracts with two of its subsidiaries that RBC reported as 'block' trades on OneChicago," it said.